Cape Town

Seen as the perfect holiday destination, Cape Town is situated perfectly to enjoy a true beach holiday but just being close enough to enjoy all the activities the city has to offer. With its long beaches, it also has spectacular views of Table Mountain and Robben Island. There is always a flutter of activity in Cape Town as it is one of the world's best surfing spots with perfect weather conditions for Kite Surfing. Restaurants and cocktail bars are situated right on the beach or at the foot of the mountain to enjoy the sun setting over the water while enjoying a sundowner or a gourmet meal.
Cape Town Holiday Rental's Apartments offer fantastic accommodation for short term letting, making your perfect holiday possible with a wide selection that will suite your needs.
---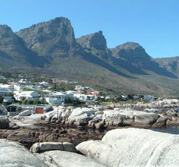 Bakoven
Bakoven is located between Camps Bay and Llandudno, and is a small seaside suburb with most accommodation properties placed close to the Beach. A unique feature of Bakoven is that it has no shops or restaurants, but with Camps Bay around the corner will fulfill your shopping and eating needs.
---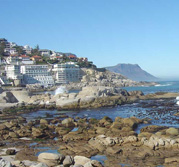 Bantry Bay
Bantry Bay is an affluent suburb of Cape Town situated on the slopes of Lion's Head and overlooking a rocky coastline, Western Cape Province, South Africa. It was originally called Botany Bay after a botanical garden that was planted here for the cultivation of medicinal herbs. The name was changed during World War I.
---
Century City
Century City offers far more than just long stretches of white beaches and panoramic views. It is the centre of wind and kite surfing sports. Taking a stroll along the beaches you will be mesmerised by the colours and the stunts these sportspeople coax from their equipment.
---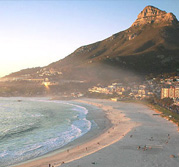 Camps Bay
The upmarket suburb of Cape Town, Camps Bay is famous for white sandy beaches, palm-trees, the well known promenade and large tidal pool. This luxury suburb has spectacular views of Lions Head, the 12 Apostles and of course the ocean. Self Catering Holiday Rental Accommodation in Camps Bay consists of Luxury Villas, Beach Apartments and Luxury Apartments.
---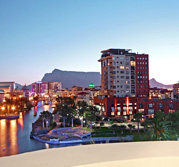 Century City
Century City is located for the traveller, being corporate or leisure, Century City offers an option for every taste and requirement. There is an assortment of options available in accommodation for the business man, coming to Cape Town alone, with the family or even as corporate groups. Accommodation to suite every requirement is available.
---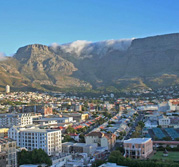 City Bowl
Cape Town's City Bowl, lies snugly in the arms of Table Mountain and offers a world within a city. It is a quick and easy drive to the beautiful beaches of Camps Bay and Clifton. Sea Points Promenade is a must with its fantastic views looking out over Table Bay and Robben Island.
---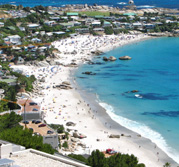 Clifton
Staying in our Self Catering Holiday Villas or Apartments at the luxurious Clifton, you will be sure to enjoy the fresh air and clean beaches that Caep Town has to offer. Clifton has four famous small beaches named 1st beach to 4th beach all with exotic sandy white sand and clear water.
---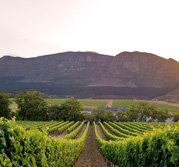 Constantia
Constantia is an affluent suburb of Cape Town, South Africa, situated about 15 kilometres south of the centre of Cape Town. The Constantia Valley lies to the east and at the foot of the Constantiaberg mountain. Constantia Nek is a low pass linking to Hout Bay in the west. Many of the homesteads along the wine route display Baroque and Cape Dutch architectural styles.
---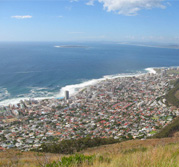 Fresnaye
Located just around the corner from Clifton and Camps Bay, and also just a few minutes' drive from the V & A Waterfront and City Bowl, Fresnaye is undoubtedly one of the Cape Town's most exclusive areas. Residents enjoy a wide variety of retail and entertainment options just a few minutes away, with Sea Point, Camps Bay, Green Point and the city centre within easy driving distance.
---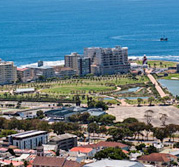 Green Point
Green Point is a suburb of Cape Town located to the north west of the CBD of Cape Town. Green Point is a popular residential area for young professional people working in Cape Town or neighbouring suburbs. Green Point is also well known in the gay and lesbian community. It is also known for numerous restaurants, cafe's, boutiques and nightclubs.
---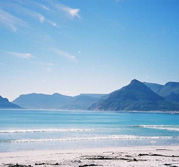 Kommetjie
The village is situated around a small, natural and rocky inlet that resembles a basin. There is some evidence that this basin was used as a fish trap by prehistoric peoples. The area is a popular spot for surfing, since powerful waves from the Atlantic Ocean rise up over rocky reefs formed by hard sandstones of the Table Mountain Group.
---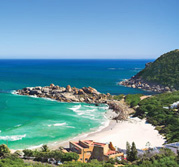 Llandudno
Llandudno Beach is one of the Cape's most beautiful beaches, surrounded by large granite boulders and overlooked by mountains. It is a popular surfing spot, but the swimming can be treacherous, with rough seas and extremely cold water. Llandudno has lifeguards on duty during the summer season, operated by the Llandudno Surf Lifesaving club.
---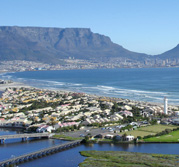 Milnerton
Milnerton is situated about 11 kilometres to the north of Cape Town City's centre, a suburb of of Cape Town in South Africa. Milnerton consists of, Milnerton Lagoon, Woodbridge Island, Milnerton Beach and Nature Reserves all in close proximity of our Self Catering Holiday Accommodation in Milnerton.
---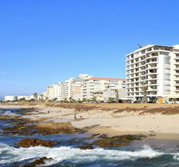 Mouille Point
Mouille Point is a suburb of Cape Town consisting of high end apartment blocks, some available for short term self catering holiday letting with breathtaking ocean views. The suburb is situated between the V&A Waterfront to the east and Green Point to the south while the Atlantic Ocean is to the North and South.
---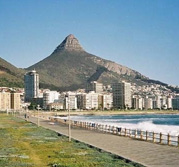 Sea Point
Sea Point is nestled between Cape Town's well know Lions Head and the Atlantic Ocean and offers some fantastic views of both. House are built in close proimity to one another and apartments are most common in the central area and towards the beachfront. Along the beachfront lies the promenade, a favourite of residents and visitors for being able to walk, jog and socialise there.
---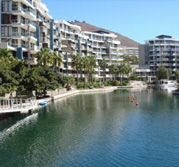 Waterfront Marina
In the heart of the Waterfront is the V&A Waterfront Marina, a residential development of prestigious apartments and penthouses - the quintessence of the Waterfront lifestyle. Now regarded as Cape Town's premier residential address, sales have exceeded R2.5 billion.